by Pete
Time for another e-bike news round up!
There are a lot of new electric bikes that have recently hit the market.
First up are 2 new electric bikes from Zap Bikes; the Urban and the Cross.
They have a claimed weight of 38 lbs and 41 lbs, which is pretty light for an e-bike! The 36V 8.7ah lithium battery pack has a low and centered location for good weight distribution and handling.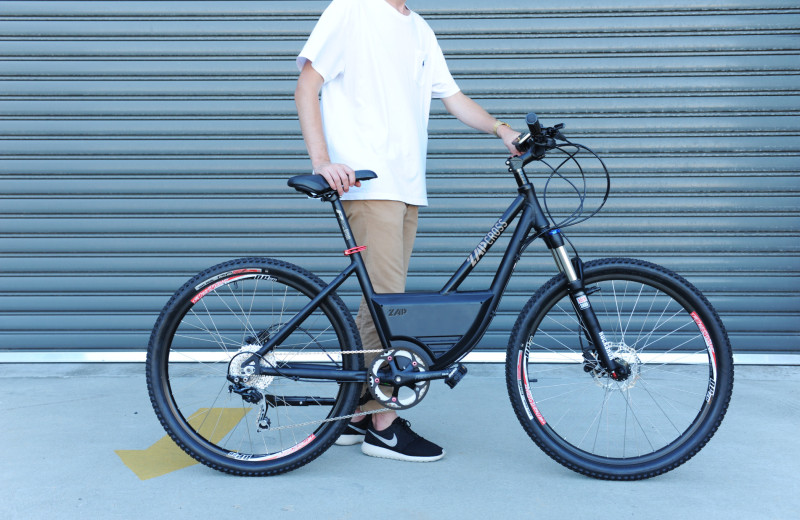 Right now the Zap Bikes are available on IndieGoGo for $949 (Urban) and $1,199 (Cross).
Karmic Bikes just announced their new Koben e-bike with Bafang mid drive motor with a light and rebuildable battery. There is also the option for getting a Koben equipped with the NuVinci N360 continuously variable drivetrain. The Koben base model starts at $1,337 as an introductory price on Kickstarter.
Kalkhoff recently announced 2 new e-bike models that will be available in the U.S. later this summer .
This is the Integrale that features a new battery integrated into the downtube of the frame. And that is a high capacity 36V 17ah lithium battery for long range rides. The Integrale also features the Impulse Evo mid drive motor, a Gates Carbon Drive belt, and Shimano internally geared rear hub.  Stay tuned for more information on the U.S. website; in the meantime you can checkout the Integrale on their German site.
The new Kalkhoff Include also has a high capacity 36V 17 ah battery with a similar drivetrain to the Integrale. Here is a link to the German Kalkhoff site for a closer look.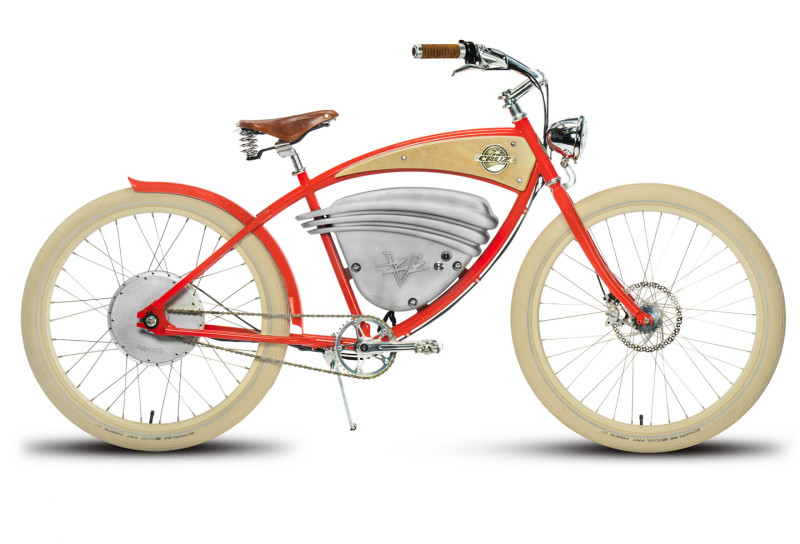 Vintage Electric Bikes has announced their new Cruz e-bike with a speed of up to 36 mph (in race mode) with a range of 30 miles and a 2 hour recharge time. The Cruz base model starts at $4,995.
PC Magazine test rode the Felt Electric SPORTe Bosch powered e-bike. It's good to see the tech magazine's covering e-bikes!
Chris Evans reviews the high-tech Gocycle G2 and calls it "the F1 car of electric bicycles."  Here is the Electric Bike Report review of the Gocycle G2 with a bunch of detailed pictures, range test, and video.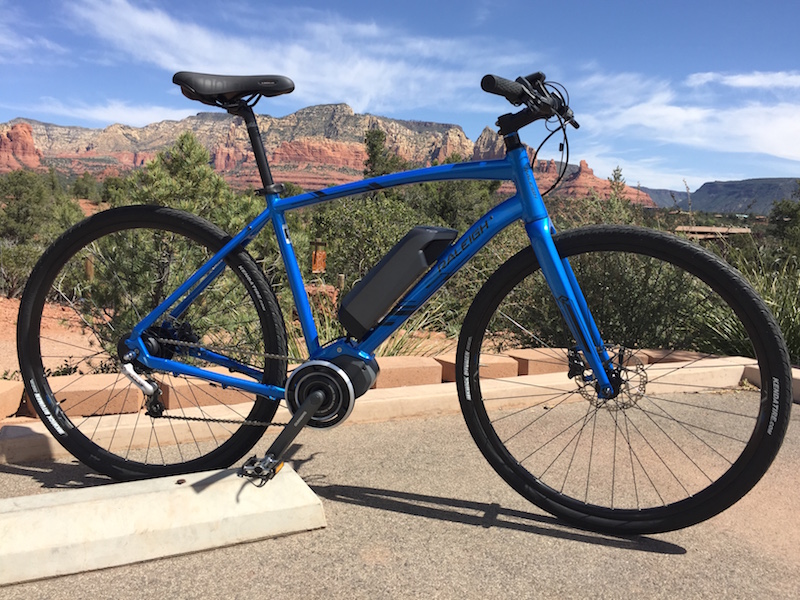 The Raleigh Misceo iE is the first mass produced e-bike in the U.S. to feature the Shimano STePS mid drive with Di2 electronic shifting. Check out the full review of the Raleigh Misceo iE.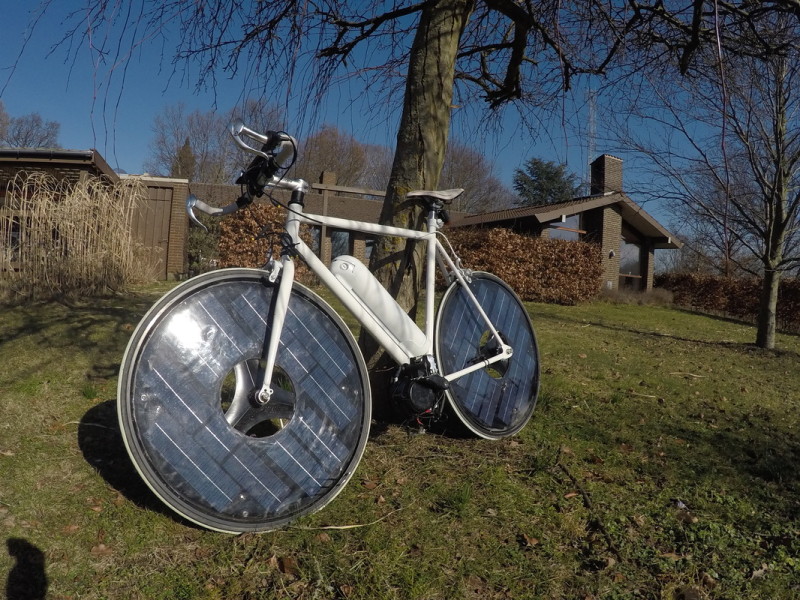 The Solar Bike charges the battery on the go or when it is parked in the sun. From Solar Bike, "The battery capacity stores sufficient energy for 70km. The solar cells are highly efficient & shadow optimized which provides 2-25km/day. (depending on the sun hours)".
This is the HERObike Bamboost, an e-bike with a bamboo composite frame with built in leather messenger bag (center of the frame). It uses the SRAM E-Matic e-bike system.
<iframe width="640″ height="360″ src="https://www.youtube.com/embed/Q_qfgCpfQZ4?feature=player_embedded" frameborder="0″ allowfullscreen></iframe>
The 0±0 concept Yamaha mid drive electric bike comes with a battery charging stand that uses your pedal power to recharge the battery. You can see in the video that the battery can be used to power other devices.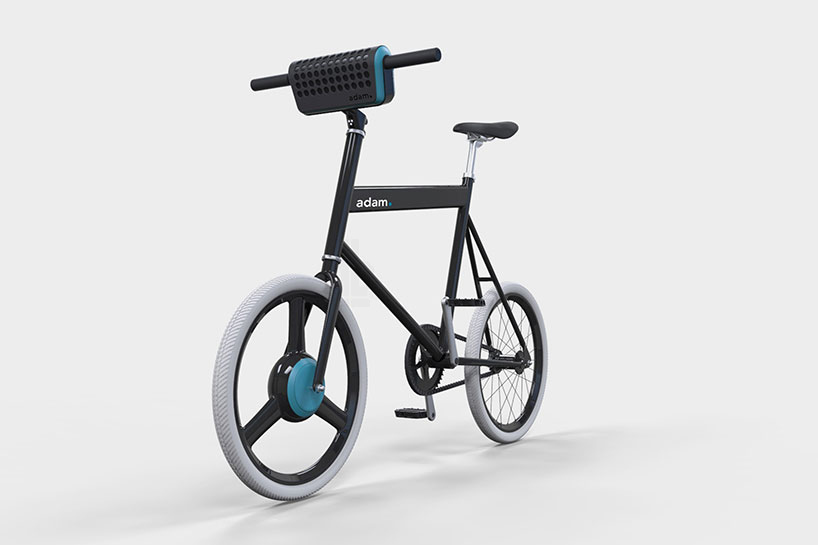 This is another concept electric bike called Adam. The detachable handlebar mounted battery has a navigation system, a built in speaker, and it can be used to power other electronic devices.
This is the Ti Cycles Fix-E with the Zehus Bike+ all-in-one electric bike system that may never need to be plugged in for a charge….The Fix-E also features a titanium frame, handlebars, stem, seatpost in addition to the clean Gates Carbon Drive belt.
This is the Ti Cycles STePS Child that uses the Shimano STePS mid drive system with Di2 electronic shifting and Gates Carbon Drive belt. Looks like a nice touring e-bike!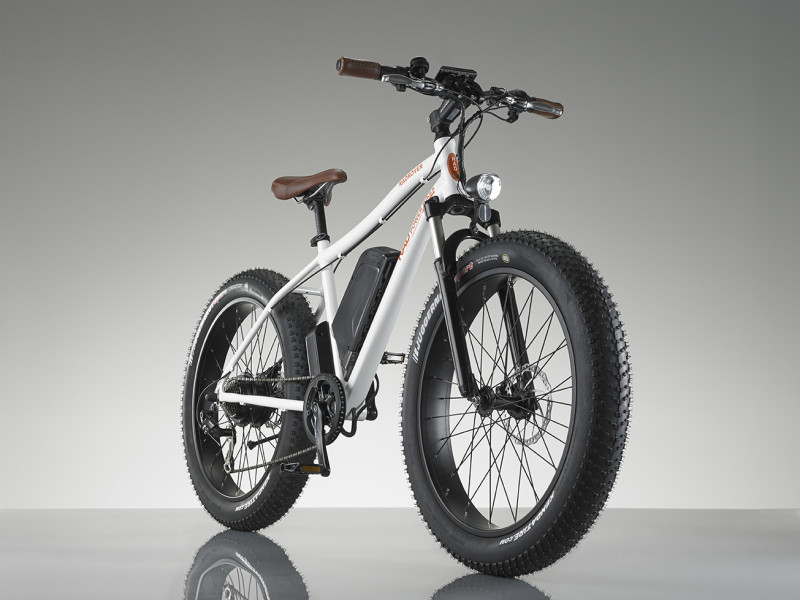 The RadRover fat electric bike with a 750 watt rear hub motor and a 48V 11.6ah lithium battery. They are currently offering it on IndieGoGo for $1,099.
This is the Babel bike that is claimed to be the "world's safest bicycle" because of it's "safety cell" where the rider sits.
Fifield just launched their Kickstarter campaign to revamp their Jetty folding electric bike with some new features shown above. Super early bird supporters can get a new Jetty for $850.
I recently had the opportunity to attend the Taipei Cycle Show in Taiwan and tour many electric bike factories in China. Here is the report from the Taipei Cycle Show and the report from the ExtraEnergy China e-bike factory tours.
Bosch is very focused on expansion of Bosch powered e-bikes in the U.S. They have an office in Irvine, CA and their system is on e-bikes from Felt, Haibike, Lapierre, Easy Motion, and Xtracycle.
This is a great idea, a local delivery service in Germany that employs elderly bike messengers to make deliveries with electric cargo bikes.
Speaking of delivery by electric bikes, the Croation Post will soon be replacing 180 gas scooters with e-bikes because they are a better solution for their delivery purposes. They are currently accepting bids from e-bike companies for 180 e-bikes.
And here is an article in the New York Times about families who are ditching their cars for cargo bikes.
Birmingham Alabama will launch a bike share program this fall that will include 100 electric bikes and solar charging stations! There will be day passes as well as monthly and annual membership options.
The E-Bike Cycle Tourist provided this report on their 2 weeks of e-bike touring in England. There are some great pictures and information on the touring experiences.
A Stromer ST2 was stolen in San Francisco and then quickly recovered thanks to it's high tech tracking system.
Chris Nolte, owner of Propel Bikes & a disabled Iraq war veteran, has been named 2015 Veteran Entrepreneur of the Year by the New York Small Business Development Center. Congrats Chris!
New Yorkers: E-Bike Lobby Day is next Tuesday, May 12, and "The goal of E-Bike Lobby Day is to show strong support for legislation (A233/ S997) in the NYS Assembly and Senate, which clarifies the definition of electric assisted bicycles; establishes that electric assisted bicycles, as defined, are bicycles, not motor vehicles; and establishes safety and operational criteria for their use."
The Sondors E-bike company that attracted a lot of attention during their IndieGoGo crowdfunding for raising nearly $5.5 million is now being sued by their PR company for non payment, reports the LA Times.
Trek has issued a recall of more than 900,000 of their bikes for problems with a front wheel quick release & front disc brake rotor.
This isn't directly related to electric bikes but Tesla (the electric car company) just announced their house battery called Powerwall. "Powerwall is a home battery that charges using electricity generated from solar panels, or when utility rates are low, and powers your home in the evening. It also fortifies your home against power outages by providing a backup electricity supply." Powerwall batteries start at $3,000 and they will soon be available as an option for SolarCity "turn-key" solar panel systems.
That's it for now. Stay tuned for more e-bike news and reviews.
-Pete
P.S. Don't forget to join the Electric Bike Report community for updates from the electric bike world, plus ebike riding and maintenance tips!
reprinted with permission